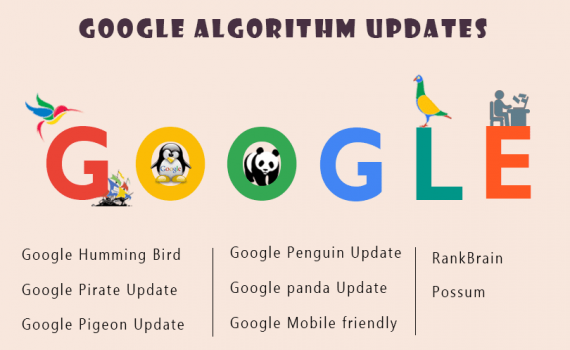 Something important about Google algorithm update
From time to time, Google changes its search algorithms. These updates stem from Google's commitment to improve your experience with their search engine, to promote the most relevant content, and to penalize websites that attempt to game their system.
A Brief History of Google Algorithm Updates—and What They Mean for Your Website's Content
Panda Update
In 2011 and then again in 2014, Google released a series of eight search engine algorithm changes. All of these changes are part of what's called the Panda update.
The differences between each minor algorithm tweak is pretty nuanced. However, the changes all had the same goal: to decrease the ranking of thin, poorly researched, less useful content in Google search results.
What does this mean for you? The Panda update is essentially a content filter, weeding out bad, spammy content and promoting in-depth content. In order to stay on top of Google search results, you must consistently produce high-value, well-researched web content that answers your audience's questions. That content must be concise, free of grammatical errors, and, with rare exception, never be duplicate. The sources it uses also must be credible.
Penguin Update
In 2012, Google released the Penguin update to address the widespread overuse of keywords and links. Prior to this update, sites could boost their search result ranking by building links to other popular websites. They also could manipulate the search engine through keyword stuffing, i.e. adding so many keywords that the text sounds unnatural and does not provide any real value to the reader.
How can this update influence how you produce content for your website? The Penguin update rewards natural link building to credible, relevant sources as well as the strategic placement of relevant keywords. If you use great sources in your in-depth content, you will see your Google search results improve. If you use appropriate keywords and do not overuse those keywords, you will see your Google search results improve even more.
One more important consideration: pay attention to which sites are linking to yours. Because of the Penguin update, your site can be penalized if spammy sites build links to it. Monitor the sites that link to yours and, when they do not appear credible, use Google's Disavow Backlinks tool to sever the link.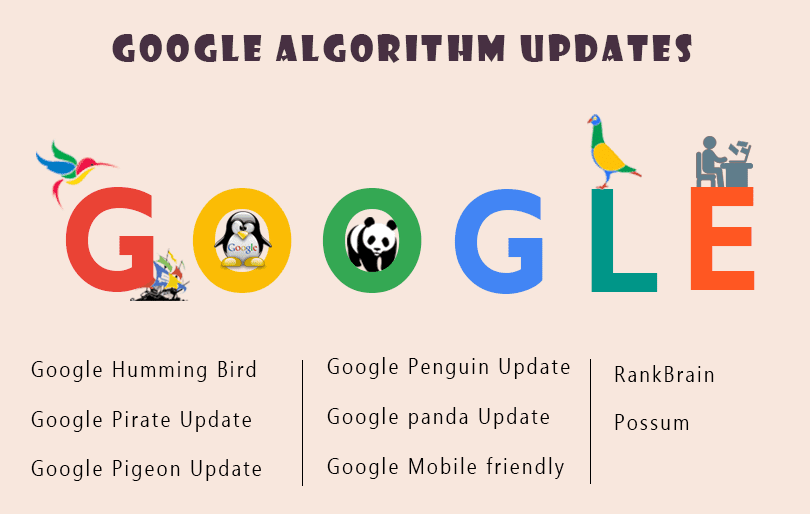 Hummingbird Update
In 2013 and again in 2015, Google engineers recognized that many search queries contained conversational phrases and questions. To help catch what users intended to search for rather than to catch only specific keywords, they released the Hummingbird update.
Due to the Hummingbird's focus on conversational language, it rewards long-tail keywords that hit on the user's intended search. For example, in the post-Hummingbird era, content with the keyword, "how to knit a sweater," would perform better than content with the keyword, "sweater knitting."
As a result, how-to articles and other tutorial-style web content have become more prevalent and users have been able to locate informative content more easily. Unlike the Panda and Penguin updates, the Hummingbird update does not focus on penalization or utilize specific methods to decrease search rankings.
Pigeon Update
In 2014, Google effectively combined search queries with Google Maps to offer more localized search results.
How did this update change search queries? Users can now type in "what is the best pizzeria in Manhattan," "best pizzeria Manhattan," or, if they're currently in Manhattan, just "pizzeria," and the search engine will list local pizzerias in Manhattan. The results will also include their locations embedded on Google Maps and the restaurant's address, operating hours, and phone number.
The Pigeon update, unlike other algorithm updates, doesn't require you to change how you produce content for your site or how you incorporate keywords. The update also doesn't penalize your site.
Fred Update
In March 2017, Google dropped its latest algorithm change, the Fred Update, without releasing any information about the update's intended goals.
A week after the update, SEO consultant Barry Schwartz analyzed which sites benefited from Fred and which got hit hard. He identified that revenue-driven sites with significant amounts of ad placement lost between 50 and 90% of their traffic from Google searches.
How does this influence your site? Be cautious about the number of ads you feature on each page of your website, and make sure that your content focuses on providing value to your readership instead of simply generating revenue for your business.
Read more How Often Does Google Update Its Algorithm?
_______________________________________________________________________________
Please contact us for seo service packages at TDHSEO.COM.
TDHSEO Team
Email: tdhseo@gmail.com
Skype: tdhseo
https://www.facebook.com/tdhseo
Thank you!