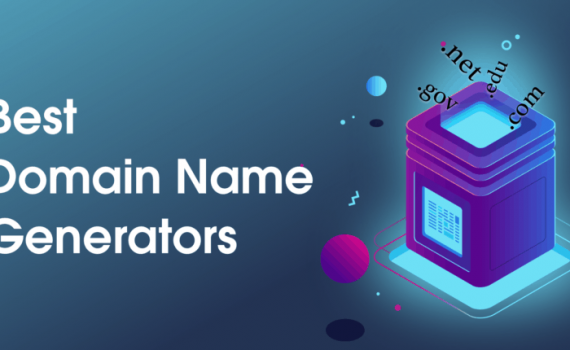 Choosing a domain name can be one of the most challenging aspects when starting your online journey. You need to pick a word, or a combination of words, that will be memorable and describe what your brand is all about. That's a lot of pressure for a couple of words. Luckily, you can use a domain name generator.
That's where a domain name generator will come in handy. It will help you to come up with the perfect domain name for your brand. And it will also check the availability.
Here's an updated list of the best domain name generators you can find.
1. Hostinger Domain Checker
The Hostinger Domain Checker is a quick and handy tool to come up with a domain name. It helps you to catch all the best ideas. Just enter your preferred word to the search bar and look through the search results.
What's cool about the Hostinger Domain Checker, is that it immediately shows you all the available word combinations that match your search and a list of different, available TLDs for it.
Additionally, Hostinger shows you the cost of the domain name you pick.
This domain generator is convenient, as it does all the domain-related work for you.
2. Nameboy
Nameboy domain name generator was launched back in 1999. It's been around for a while and is trusted amongst web creators.
This domain name generator checks your provided keyword and makes different suggestions based on it. It does, however, advise people to check only the most common TLDs like .com.
Nameboy truly is one of the best, most easy to use domain name generators out there. This explains its popularity. Many people use it not only for generating a domain name but also for creating company names and such.
3. Instant Domain Search
Instant Domain Search is a neat little tool that shows you domain name search results as you type. It works very quickly, so it saves you a lot of time.
This generator adds loads of popular beginnings and endings to the keyword of your choice, to find which most popular TLDs are available. However, it does check all available TLDs, including generic and country code TLDs.
What's very cool and helpful, is that Instant Domain Search looks up all the domain names that are about to expire. This is handy because some registrars let you purchase domain names, that are nearing the end of their life-cycle.
4. NameStall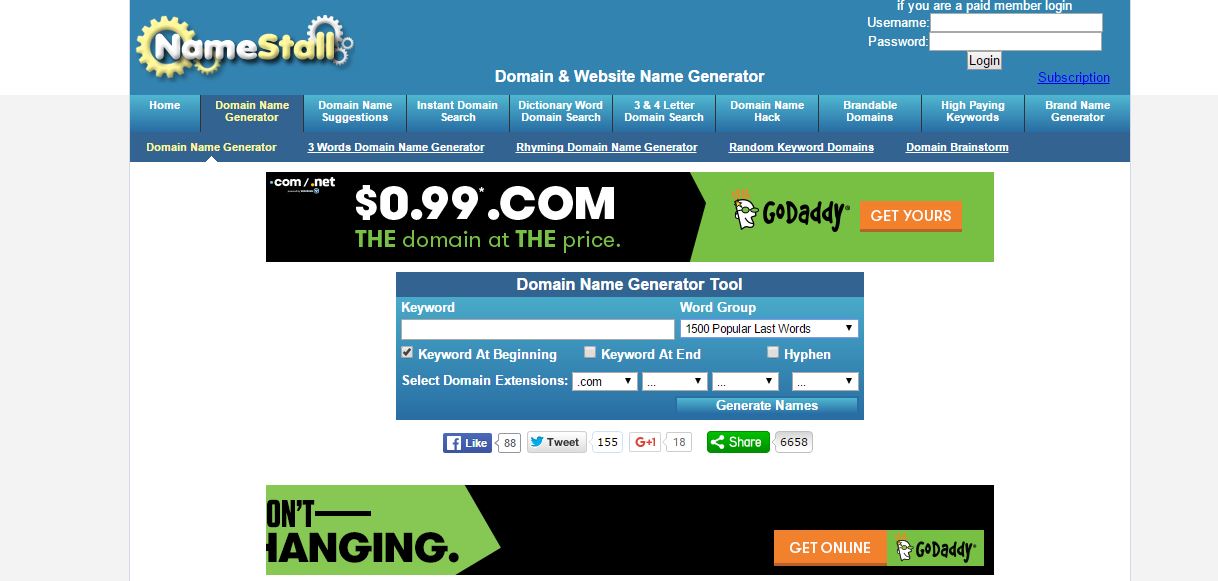 NameStall offers a variety of tools to help you in your domain search. Start with their domain name generator tool, which will help you search by keyword and other filters, including:
Parts of speech
Popular keywords
Basic English words
Industry categories
You can also choose if you want your keyword at the beginning or end of your domain or if you want a hyphen in your web address. Finally, choose extensions you'd like to filter by. You'll receive a list of options that are both taken and not yet registered. Click the "register" link beside the one you like to choose it.
NameStall also features a similar domain name suggestion tool as well as an instant domain search tool, brandable domain name list, and high paying keywords search tool.
5. Lean Domain Search
The most common way to create a domain name is to combine two or more words. Lean Domain Search does this for you. You enter a word of your choice, and the domain name generator comes up with dozens of different, relevant word combinations.
What is more, the Lean Domain Search checks the availability of your chosen domain name.
One thing to keep in mind: .com is the only TLD (Top Level Domain) that it checks. This TLD is the most popular and memorable on the web, so this limited function is actually quite handy.
However, if you are interested in a different TLD, such as .org or .co, you might want to use a different tool.
6. Bust a Name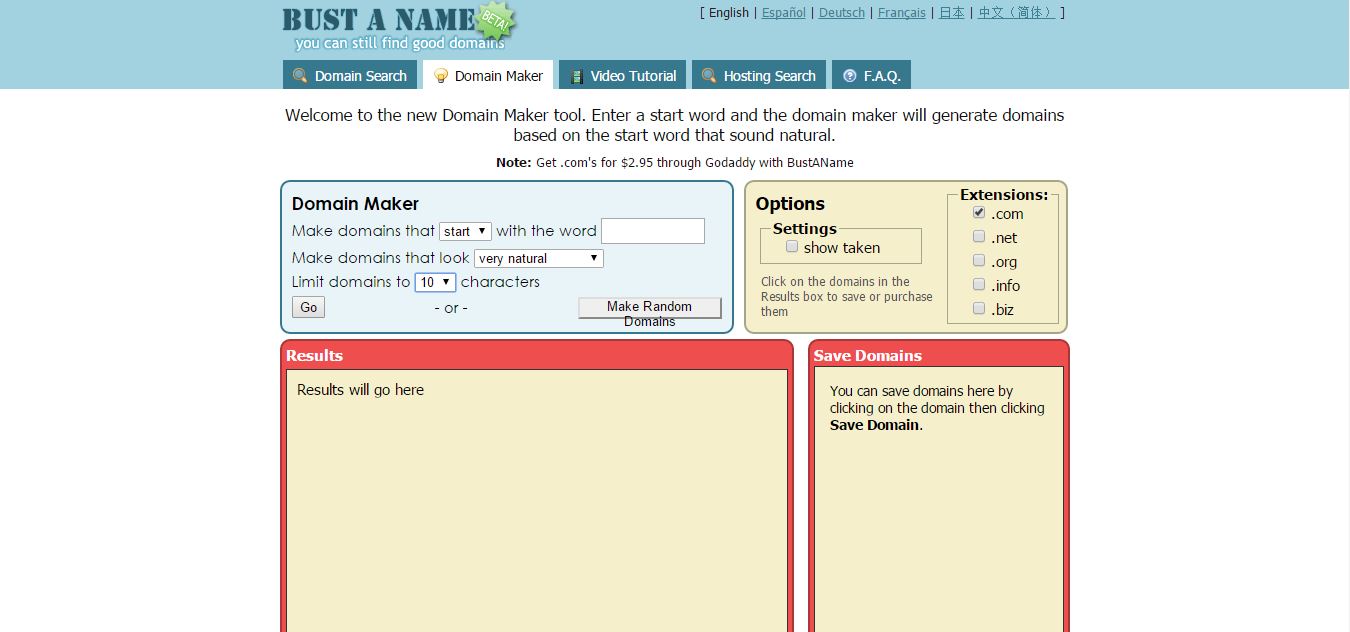 Bust a Name has numerous filtering tools to help you find a quality domain name that meets your specific needs. Start by filtering for keywords, and then choose options such as "starts" or "ends" with your keyword. Then, filter by how natural you want the domains to look, and choose your character limit. You can also choose to show taken domains as well as filter by extensions, such as .com, .net, and .org. At the bottom of the page, you'll also see suggestions for similar keywords to try.
If you don't have a keyword in mind, try the "Make a Random Domain" button to spark ideas or snatch up an available name. If you find a domain that you like, save it for later, or purchase it through links to domain registrars like GoDaddy and Namecheap. You can also run a domain search on the site to if the name you have in mind is available.
7. Shopify Business Name Generator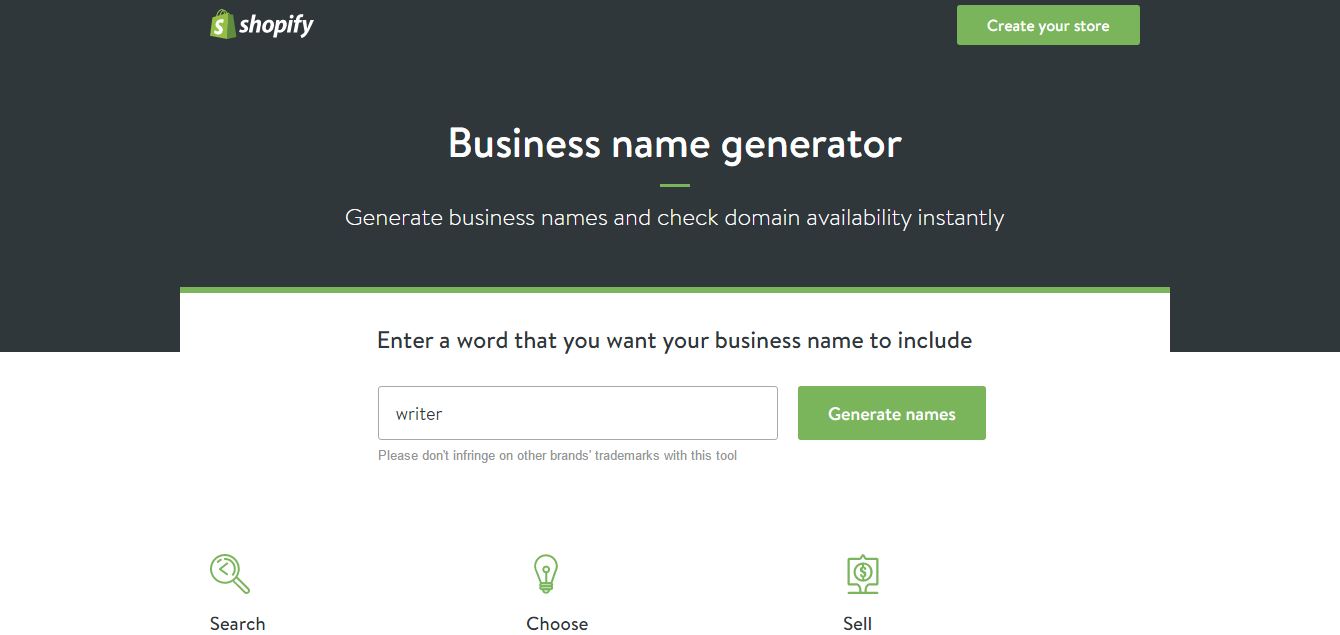 Although the tool's name suggests it's just for generating business names, Shopify's Business Name Generator actually delivers available domain name ideas. Start by choosing a keyword that you want your domain to include, and you'll get hundreds of suggestions. Although the site encourages you to create a Shopify shop using the domain name they've suggested, you can go elsewhere to purchase the web address. Suggestions use the .com extension.
8. Domainsbot
DomainsBot uses only the best algorithms created to provide unparalleled power. This tool provides relevant domain name suggestions in eleven different languages!
It spreads its results across all TLDs (Top Level Domains). Many market leaders, such as Network Solutions, OpenSRS and Weebly use the DomainsBot domain generator to provide the best service possible to their clients.
This domain name generator is one of the most trusted and easy to use tools on the market.
9. Domain Puzzler
Domain Puzzler is a simple tool with many options. Start with the "easy" version, and insert your ideal keywords, choose your domain extensions, and search for ideas. The cool thing about this domain name generator is that you can include numerous keywords opposed to just one or two like the other tools on this list, and it will combine your keywords into different variations. Add results to your favorites list, or try a more advanced search. You can also use the tool to compare the page rank of different domain names.
10. Name Mesh
You can do a few things with this run-of-the-mill domain generator. First, Name Mesh lets you check the availability of your chosen domain name with the most common TLDs. Secondly, it checks the availability of new gTLDs (Generic Top Level Domains), such as .email, .link, and so on.
What is more, Name Mesh helps you to create a short domain name, by combining your keyword of choice with TLDs.
Name Mesh is a top-notch tool, to help you develop the best domain name for your website. It also utilizes different methods, to help you to come up with synonyms and alternatives for your chosen keyword
Read more The best 5 common domain extensions you should choose
_______________________________________________________________________________
Please contact us for seo service packages at TDHSEO.COM.
TDHSEO Team
Email: tdhseo@gmail.com
Skype: tdhseo
https://www.facebook.com/tdhseo
Thank you!