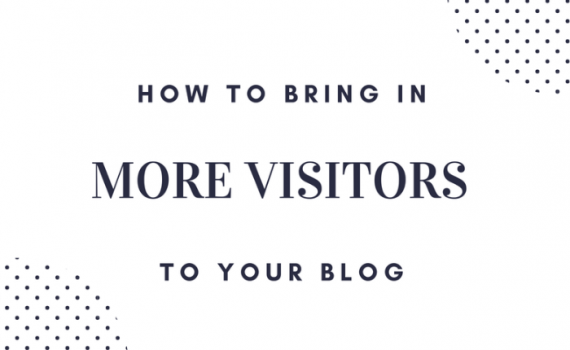 Great ways to bring more visitors to your website
It takes work, sometimes quite hard word, to get more people to visit your website. But to make it easier – we're giving you a dozen ways to do it.
1. Create great content
People want information. That means content.
Not just good sales copy about what your company offers, but content that helps them out in some way.
People love content so much they will actively hunt it down.
You want them to find you when they do this.
And to attract them, your site needs a blog, tips, FAQs or resource section – or even better, all of the above!
You have to publish things that people want to read about, which isn't normally the same as the stuff the organisational hierarchy have a strong opinion about, so:
Ask reception or customer service staff
Look at sites like Quora.com for questions frequently asked
Think about what you're asked all the time by friends, family and associates
A radical thought – ask your customers directly.
Then create content that answers those questions.
Organic Search Traffic
Organic traffic is that which comes from people clicking on the (non-paid) search result links.
Most effective, websites with healthy visitor numbers, have a good proportion of visits coming from organic search.
Search Engine Optimisation (SEO) is everything you do to make your site a more attractive destination in the search engines eyes – i.e to get you good search result rankings. Some of the strategies above are necessary to improve your search rankings and grow organic traffic.
But in addition, your site should be optimised for search – which means getting all the technical bits right so the site is an attractive destination for the search engines. This includes:
Unique landing page for each product or service offering
Search friendly URLs
Canonical URLs
Unique title tags and descriptions
Appropriate use of keywords in the above, but also in headings and content body
Clean, fast loading code

Get out and be social
People do business with people, so make sure you are where your customers hang out – whether it be Facebook, LinkedIn, Twitter or Pinterest.
Being active on social networks means being the face of the business so get someone who is an appropriate spokesperson – not just the youngest, hippest person on the team!
Like the website itself, you will need to promote your Facebook page or Pinterest page, and reach out to build your Twitter/LinkedIn communities. This can be done via competitions and giveaways, or actively reaching out to individuals. It depends on the platform.
Once you've written your excellent content, share it on these social media platforms so that it is exposed to more people. Include social sharing buttons on your website so it is easier for readers to share it for you.
Interact and join discussions – if you comment intelligently on content or discussions that are directly related to your business, and if you back it up with helpful content on your website – then this can be very effective.
However, it can be time consuming, and too many people comment on blogs and forums just for the sake of it so pick your platforms and discussions carefully. If your content answers a question you can also link to it in your response to questions or discussions..
Become a video star
A blog post or article that answers a common question can be re purposed as video or Slideshare content. And for complex services, a picture paints a thousand words.
Have a product? Are you a location based business? A video is a great way to show them off.
Set up a You Tube or Vimeo channel to post your video, and include prompts to visit the site or subscribe to your channel for further updates. Video content also contributes to search visibility.
Good video can take a while to prepare and you need the right tools to do it. Alternatively there are video creation companies that will do it for you.
Attract referrals from other sites
Referred visitors are a bit the same as referrals in the offline world. They vary in quality but can be a very effective way of attracting visitors to your site and getting leads.
Referrals are when another site places a link from their site to yours – when someone clicks on that link they will show up in Google Analytics as a referred visit.
Get repeat visitors
Don't forget that it can be cheaper to get more business from your existing client base than it is to win someone who has not dealt with you before.
Make sure you have some of your website dedicated to providing good support and service to your existing customers.
Include regular updates and fresh content on your site so people come back for more – even if they weren't ready to buy what you offer the first time they visit, over time they will become familiar with your content and your business. And knowing is the first step in the know-like-trust process.
Email newsletters with links to your latest blog or article is a great way to a) get material for your newsletter and b) send people to your website where they can spend time reading about your offers that might be relevant to them.
Read more Speed up website security in four clever ways
_______________________________________________________________________________
Please contact us for seo service packages at TDHSEO.COM.
TDHSEO Team
Email: tdhseo@gmail.com
Skype: tdhseo
https://www.facebook.com/tdhseo
Thank you!