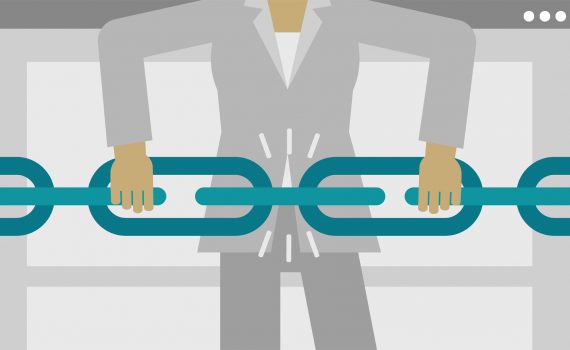 The best way to show off your related content is by linking pages and blog posts to and from each other, including the homepage. Your homepage will have the most influence in ranking content, while your contextual links will show search engine bots what content is most important
Here are several places where you should consider adding internal links.
Before we dive into some of the more unique internal linking strategies, let's take a look at some of the overall best practices for internal links that our respondents recommended.
Start with Quality Content
"Creating quality content is essential," says Nick Galov of Hosting Tribunal. "The last thing you want is to have lots of linked pages with bad content."
"Instead of randomly linking pages, you need to devote time to producing original content."
"For instance, one of the IT websites that I have contributed to had a great design and new posts on a daily basis. However, the content varied greatly: some of the posts were incredibly well written, while others were just put together for the sake of publishing."
"Overall, we did manage to link our pages, but the result wasn't as good as we hoped for."
Link Related Pages to Each Other
"Use relevant links," says Fisher Unitech's Jackie Tihanyi. "Before linking two pages together, look at the type of content those pages focus on. If, and only if, the two directly relate, then link them to one another."
Fundera's Lizzie Dunn agrees: "Best practice is to link keywords via anchor text to content that directly relates to or covers that specific keyword."
"Internally linking pages based on topical relevance—as opposed to random internal links—helps indicate to the search engines that these pages are related and thus strengthens the topical relevance of that category within the site," says Craig De Borba of Ooma Small Business.
And Best Company's Rochelle Burnside recommends "linking to related content that will keep readers on your site longer, such as engaging blog posts and long-form content. This will increase dwell time and therefore improve SERP rankings."
Link For Users, Not Just for SEO
"Make sure your internal links are natural and will make sense to your readers," says Colin Mosier of JSL Marketing & Web Design. "Often, content marketers will insert a link simply because they believe they have to for SEO. Unfortunately, this does not help your efforts."
"We think about the user first and ask ourselves: 'Does it make sense to do this, or are we just doing it for SEO?" says Jason Martinez of Redefine Marketing Group.
"You links must provide relevant information," says Andrea Loubier of Mailbird. "Linking merely for the sake of linking is not a good practice, and search engines will take notice."
HashtagJeff's Max Pond agrees: "It's easy to get caught up making a science out of internal linking: measuring keyword anchor density, linking from your most authoritative pages, balancing partial- and exact-match, etc. Put the science on the back burner and think about how internal links are going to solve visitors' problems."
So how do you do this?
"Consider what resources your readers would want to see next that will help them continue their journey towards conversion," says Matt Benevento of Geek Powered Studios.
"Ensure that your links match the flow of the overall content, and make your links so compelling that the readers can't resist clicking on them," says Nathan Sebastian of GoodFirms.
As Lauren Petermeyer of Summit Life Media says, "A link for SEO's sake on which no one clicks does very little good in the long-term health of the site."
Avoid Only Linking to Landing Pages
"Stop linking to your homepage or contact page when linking internally," says Jason Yao of CanvasPeople. "Make an effort to link to unique blog, category, or product pages that are relevant to the anchor text being used."
Katherine Rowland of YourParkingSpace agrees: "Make the internal links on your site varied and thorough. Most sites have far too many links simply to the homepage. Make each different page link to multiple other, preferably deeper-level, pages on your site. This creates as many ties between pages as possible."
Use Keywords as Anchor Text
"Anchor text is text to which a link is added," says Rahul Singh of HubsAdda. "In other words, anchor text is a short description of the linked page. If the anchor text is 'sunglasses,' when a user clicks the link it should take him/her to a page about sunglasses."
"One of the most important parts of internal linking is making sure that you're using strong anchors," says Ben Johnston of Sagefrog Marketing Group. "Search engines can glean some intent from the text that you use to link to your pages, so do some keyword research to find a great keyword to use for your anchor."
"Your own website is the only place that you have full control over anchor text, so take advantage of it," says Tony DeGennaro of Dragon Social. "Using your target keywords as anchor text for internal links can help you drastically increase your rankings for those keywords."
"I recently changed the internal links to one of our blogs throughout our website, and without any keyword stuffing, I was able to get the blog to rank #3 on the first page of Google with only about an hour of work. This really taught me that anchor text does matter," DeGennaro says.
"Many people think a hyperlink can be plopped down over any relevant text, and for some, that may be adequate," says Nextiva's Yaniv Masjedi. However, if you're serious about SEO, you need to get into SEO keyword research."
"Identify not only the article's primary keywords, but also secondary, tertiary, and numerous related search terms. While secondary keywords are great for headers, tertiary and related terms make fantastic anchor text for internal links," Masjedi says.
Read more The reasons why your website should have more internal links
_______________________________________________________________________________
Please contact us for seo service packages at TDHSEO.COM.
TDHSEO Team
Email: tdhseo@gmail.com
Skype: tdhseo
https://www.facebook.com/tdhseo
Thank you!