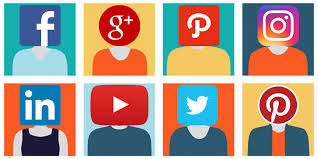 Here are five additional social networks that you should try advertising on, with advice on how to tackle them.
Pinterest: The lifestyle powerhouse
Pinterest is ideal for B2C brands with lifestyle products that can be clearly expressed in a picture. Indeed, my current feed has ads for sneakers, an ab workout, meal prep recipes, and an Apple Watch—all of which use imagery, not text, to sell the product. Pinterest, therefore, is a poor platform for, say, complicated B2B software.
Last year, Pinterest reported 250 million users and more than 175 billion pins. The platform also shared that Pinterest users find Pinterest ads 1.4 times more relevant than ads they see on other social media networks—which is reason enough to start advertising on the platform.
Pinterest Ads
Pinterest offers Promoted Pins, which are standard pins advertisers can promote in a user's feed (the ads are simple, with an image, short text, and an off-site link). These ads blend in well and are not obtrusive to the Pinterest experience.
Their self-serve dashboard makes it simple to get going, with basic targeting around gender, age, location, language, and device. On top of that, you can target by nearly 250 pre-defined interests (like Toys, Travel Tips, and Oral Care) and specific keywords you define. You can also decide whether you want to appear in search results, browsing feeds, or both.
When creating a Pinterest ad, use a vertical image at least 600 pixels wide, and remember that people use Pinterest to discover new ideas and projects. If you can create a visually-appealing ad that provides a promise of improvement to the user's life, you'll do well on Pinterest.
Snapchat: The Gen Z playground
Like with Pinterest, B2C brands are likely to see more success than B2B on Snapchat.
If your B2C business has a younger demographic, you need to consider testing out Snapchat ads. Comprising just 1% of total digital spend but used by 27% of Americans, Snapchat provides a great opportunity to connect with a younger audience (among those 18 to 24, 78% use Snapchat).
Snapchat Ads
Snapchat has multiple ad types, including their Sponsored Filters, which are branded filters people can overlay on their photos. These are meant to be quirky, so they work best when they combine a topical phrase with a logo, such as "Feliz Navidad" coupled with a Corona logo during Christmastime.
Snapchat's Story Ads live in the Discover tab amongst organic stories from celebrities and media sites. Here, you have just an image and 34 characters to entice people to click, which prompts them to watch at least three video Snaps you upload. Snapchat also offers Snap Ads, which are slightly-obtrusive ads that appear in between Snaps in someone's Snap Story (these can be static or video).
While many brands port the same video ads they use on programmatic channels, these often feel out-of-place, so you'll likely see the most engagement with Snapchat-specific short videos, especially if shot with a smartphone and depicting a person interacting with the product.
Snapchat's self-serve ad platform offers targeting around age, gender, language, carrier, and predefined audiences (Yoga Enthusiasts, Bank Visitors, etc). It also incorporates Experian, Datalogix, and Nielson for additional demographic targeting. There is a $50 minimum daily spend cap, though, which is much higher than the other platforms.
LinkedIn: The professional network
LinkedIn advertisers tend to be B2B, and if that's your audience, you should definitely be testing ads here. But B2C advertisers can still see success thanks to all the work-based targeting options and the extensive network of more than 560 million professionals. Indeed, you can target job titles, employees at specific companies, skills, pre-defined interests (like Computer Graphics or Organic Farming), field of study, education, and more.
This makes LinkedIn a perfect outlet for, say, a luxury brand that wants to target high household income, which can be approximated by targeting job titles like CEO, VP, director, etc. And anyone with demographic segments like "young professionals" or "middle-career engineers" could easily reach these cohorts with LinkedIn.
LinkedIn Ads
LinkedIn has three main ad units, all native: Sponsored Content, Sponsored InMail, and Sponsored Job Results. The latter two will appeal mainly to sales and hiring teams, respectively, while Sponsored Content is used by marketers to reach people as they browse their LinkedIn feeds. LinkedIn ads look exactly like organic posts, even showing who of your contacts follows the sponsoring companies.
The ads themselves tend to promote content like an eBook or blog article, although on desktop you'll also see commercial-quality auto-playing videos. Does this mean you shouldn't try sending users to a product page? Not at all, but keep in mind users are likely to be in an analytical work mindset, versus a buying one, making LinkedIn more of a top-of-funnel traffic source versus direct response.
Quora: The Q&A platform
Advertising on Quora might seem like a waste of time, but the Q&A platform has over 300 million unique visitors each month. With its wide variety of topics, Quora applicable to pretty much every marketer—all you have to do is find your audienceand set up your ads.
Quora Ads
Quora's self-serve portal has two major ad units: 1. Promoted Answers, where a specific answer gets promoted in a user's home feed (but not within the question itself), and 2. image/text ads that appear within answer results.
What makes Quora effective is how hyper-targeted you can get. Beyond the pre-defined Topic and Interest Targeting options (there are literally thousands), as well as their recently-released keyword targeting, you can target specific questions. The interface even shows you the expected weekly views of each question.
A successful Quora campaign will involve upfront research around relevant questions. Consider this missed opportunity: For the question of "What are the best running shoes?" there's not a single footwear advertiser. It would not cost much for a brand like Adidas or New Balance to pay to appear in the first result.
This research isn't hard—just do a Quora search for a relevant question or keyword, see what Topic it's under, and then look at other questions under this Topic. For the ad, you don't have much room for text (105 characters), so you need to be succinct.
Read more  How to make your Facebook Ad Campaign successful
_______________________________________________________________________________
Please contact us for seo service packages at TDHSEO.COM.
TDHSEO Team
Email: tdhseo@gmail.com
Skype: tdhseo
https://www.facebook.com/tdhseo
Thank you!