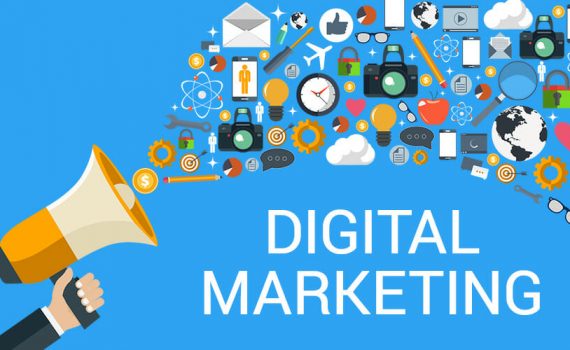 The best digital marketing tips for beginners
It is necessary to know about these points of growth in the online world. With consumers increasingly demanding for relevant information and needy individuals searching for efficient solutions to their problems, without digital marketing, it's hard to move on.
So then,
What are the best digital marketing tips for beginners?
1: Your Website
Your site is one of the most critical parts of your digital marketing strategy. View it as your home on the internet. Often, it is the first impression that potential clients or developers will need to before contacting your company.
Thus, you need to set-up a fully functional website that is user-friendly. Please, note:
A poorly plan website can ruin all your marketing efforts (including sales).
Make sure you have a clear value proposition. Studies show that you only have about 10 seconds for site visitors to understand what you do and how you do it.
Have a strong call-to-action. It should be evident to your site visitors to click through to other page's and follow up the next step in the sales process.
Know your audience and ensure that your content is relevant.
Don't hide your contact information. Facilitate the location on all pages.
2: Search Engine Marketing (SEM)
Search Engine Marketing (SEM) is the Act of buying traffic through paid search listings. It is also popularly called pay-per-click advertising. You can configure SEM through Google AdWords or Bing Ads.
This strategy allows your website to show up on top of Google and Bingwhen people search for your keywords. It is, in fact, an excellent way to get your presence in front of the search engine, especially for brands that are just starting or have not had time to build organic search.
3: Bet on Social Networks
Social networking sites can help you engage with your customers, increase the notoriety of your brand, improve customer service, convert visitors into leads, Drive more website traffic, and boost your search engine rankings. Here is how to turn social media followers to paying customers.
Pro tips:
Choose a few channels that are right for your brand. You don't need to be in all of them.
Do some research to find the social media platforms your target audience is using the most. Run surveys and ask your customers what social media channels they use often.
Write and share informative content relevant to your ideal customer. Make sure they are interested in what you are offering and listen to their views as well.
Encourage user-generated content (UGC). Ask your audience appropriate questions that will enable you to gather vital information to create UGC.
Organize contests and let them share your story on different social media marketing channels, and then, calculate or measure their undertakings.
4: Content Creation
Creating quality content should be one of the most critical aspects of your digital marketing strategy, for the following reasons:
Your website needs quality content to be effective, and your social networks need compelling content to engage your audience.
All your marketing efforts would be useless without high-quality content.
Strangely enough, what makes for great content? Your blog content must resolve the problems of your readers. You're an expert in your field, then share your knowledge. Help people. Give them advise hat will solve their problems.
Pro tips:
Share actionable blogs that address your customers' needs. Your products or services must solve the problem or lack of your potential buyer.
Write about your client's situation — what he knows, cares about and thinks. Connect with your target market so that you can better educate him on how your product or service can improve his life.
Tell your story — One of the first things you learn in business is that humans love to connect, not companies. Share your experience and create a human connection with their customers. Storytelling will help you connect better with prospects.
Write about the benefits of your product. Resources is all about your product, how it works and the benefits of using it. Hence, the benefits show the value that your product brings to the table. For example, your product or service will improve your clients' quality of life, create financial security, etc.
Therefore, create content that relates to your buyer persona.
5: Search Engine Optimization (SEO)
It is no use having a beautifully designed website if nobody can find it, right? Search engine optimization techniques are used to make your content easy to find in search results pages (SERPs).
Here are some tips on why you first need to have an excellent SEO process on your site:
The first five results on Google receive 67% of all clicks, and, therefore, it is safe to say that SEO is crucial when it comes to digital marketing. In consequence, make sure that your site's titles include the main keywords that you are targeting. If you are not sure about what keywords to use, Google Keyword Planner can help you.
Write about topics that your potential customers are searching for on Google. Think of the most frequently asked questions that you receive and write a blog post around each one.
Make it easier for other site owners to connect to your blog or website. You can do it by adding your website to a directory, write guest posts for other sites, ask your partners to links to your site, etc.
These combined tactics will improve your website SEO strategy, making it more relevant, and therefore more accessible for people to find you.
6: Advertising on Social Media Networking Sites Pays
Advertising on social networks pays pretty well because your social media ads campaign is sent directly to your target buyer. It will assist you to:
Increase content visibility.
Drive more website traffic.
Boost email sign-up and conversion.
Improve search rankings.
In view of this, invests in social ads to aid you to promote your content on various social media channels. Facebook is by far the most popular platform, and for most companies, it is recommended to start there.
Read this post to discover top underused social media marketing strategies to publicize your blog and also how to get others to share or promote your content for free on social media. The most important points to remember about advertising on social networking sites are:
Get to know your target audience — Sharing interesting blog content is the crucial point. Don't talk about your company or products, share materials that will benefit your ideal buyer. Speak in your unique tone to help them relate to your articles. Social media publicity is about the expansion of your content and website, not about pushing some unattractive posts in their throat.
Create a custom audience — Platforms like Facebook and LinkedIn can be very detailed with user demographics, location, user interests, and behavior by segments. Experiment with a few different audiences and discover what works best for your company.
Have a purpose. Wow, your post received 1,000-page views, and then what?
If people are engaging with your content but not involved with your brand or product, does it make sense?
Use social media advertising to help get people to entangle with your brand.
7: Display Advertising
This kind of advertising utilizes different types of display tactics such as large print, colorful makeup, images like videos, large spread, and so forth. Unlike text-based ads, visual advertising are more of pictures, audio, and videos.
They are shown to your audience whenever they're browsing online, and not necessarily while they are looking for your product or service. Display ad is excellent for improving awareness. And more exciting is that you can get many views on a limited budget
Read more The best guide for consumer marketing
_______________________________________________________________________________
Please contact us for seo service packages at TDHSEO.COM.
TDHSEO Team
Email: tdhseo@gmail.com
Skype: tdhseo
https://www.facebook.com/tdhseo
Thank you!