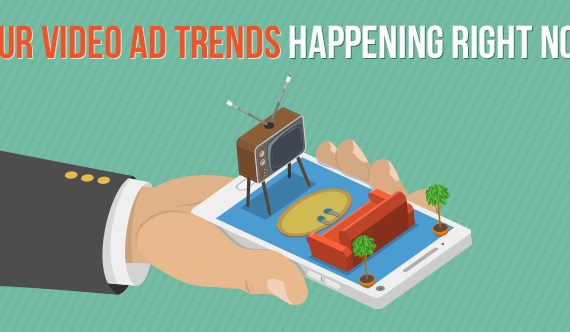 Best video advertising trends you ought to know
Here are the top seven video advertising trends you can expect to see more of in the new year.
1. Shorter video ads
Today's abundance of video content creates an endless amount of competition for advertisers. Customers with the ability to watch virtually anything will only watch an ad if it is relevant, attention grabbing, and valuable. As a result, the amount of time people spend watching ads has declined across nearly every medium. Similar trends are leading brands to test short video ads that aim to beat the skip button and serve short attention spans.
Short bumper ads present a creative challenge for marketers who must tell a brand story in under 15 seconds. The format calls for impactful content that can induce an immediate emotional response from a viewer. Below are two examples of prominent brands using humor, shock, and action to create compelling short and effective pre-roll ads.
Hefty Brands
Mom's Touch
Concise video ads like these have started to become a staple in video-focused marketing. According to a study by Google, 90% of bumper ad campaigns boosted global ad recall by an average of 30%. It's a safe prediction that more brands will jump on the trend this year.
2. OTT advertising
Over the top (OTT) is a term used to describe content providers that distribute streaming media over the internet. These services are disrupting traditional broadcast television and have led a new generation of consumers to "cut the cord" with satellite and cable services.
There are three video on demand models currently dominating the OTT industry:
Subscription VOD: Netflix, Hulu, HBOGo
Transactional VOD: iTunes, Amazon, Google Play
Ad-supported VOD: YouTube, Twitch, Vimeo
Marketing through these platforms offers benefits similar to those gained from conventional online advertising. Unlike traditional commercials, OTT allows marketers to utilize targeting, ad insertion, and advanced analytics to create shorter more personalized ads. This enables brands to run full screen ads catered to the viewing habits of an entire household. Viewers watching these ads from an OTT streaming device can't skip or install an ad blocker. As a result, video completion rates are significantly higher for OTT advertising than in-browser video ads.
The number of places to advertise through OTT is growing exponentially. Future iterations might combine data from other devices in the household to create even more effective targeting. Not only would this technology maximize the potential of ad campaigns, but it would also ensure viewers are seeing ads that actually match their interests. In the years to come, OTT could rise to be one of the most lucrative channels available to modern advertisers.
3. Mobile-first advertising
Smartphones have become ubiquitous. In 2018, mobile devices accounted for over 52% of all worldwide online traffic, and all video marketing stats show continued growth. Marketers are well aware that consumers now rely on their phones for news, shopping, and a significant portion their entertainment. As a result, forward-thinking brands have worked to make their websites, advertisements, and even services mobile-friendly. Creating this intuitive user experience is critical during a time when nearly half of all online transactions are done on smartphones.
In addition to changing the way we consume, mobile phones have also started to influence the way we create video content. The majority of videos recorded on mobile devices today are being shot in an upright format known as vertical video. It's a trend that has led many brands to create vertical advertisements intended for platforms such as Instagram Stories, Snapchat, and even Facebook. Using this vertical format enables marketers to get engaging content in front of modern customers and minimize on-screen distractions.
Vertical stories are reportedly on track to surpass Facebook and Instagram news feeds in terms of user engagement. Additionally, the advent of shoppable Instagram stories and vertical video platform IGTV have created a practical motivation to create in this format. We can expect the use of mobile-first content to continue its spread well into and after 2019.
4. Cinemagraphs
Cinemagraphs are a new form of digital art gaining popularity online. These photo and video hybrids contain a subtle motion that plays in a seamless loop while the rest of the image remains still. It's a visually interesting effect that creates the illusion you are watching an animation. Whether the subject is waves crashing against a shore or the flicker of a candle, the end result is an alluring image that captures the viewer's attention.
Cinemagraphs are made using high-end cameras and a post-production tool to composite a series of photos or video recordings. The first to use this technique (or popularize it) were New York based photographers Kevin Burg and Jamie Beck. It was originally intended to bring life to their fashion week photos but ultimately sparked the curiosity of the web. It wasn't long before advertisers started using Cinemagraphs for marketing campaigns.
Cinemagraphs garner more interest than photos without the involved process of video. It calls for a bit of imagination, but it's another way advertisers will tell their stories in 2019.
5. User-generated content
Even in the digital age, word-of-mouth marketing remains a valuable asset to brands. In a recent survey, 76% of consumers said they trust content shared by "average" people more than by brands. This underlines the importance of leveraging user-generated content, or UGC, to build trust with your audience. UGC can be defined as pictures, videos, reviews, social media posts, or any relevant content created by unpaid "fans" of your brand. Not only is UGC more budget-conscious than other forms of marketing, but it has also been shown to generate 7X higher engagement than standard brand generated content.
What makes UGC most appealing is the authenticity it presents to an audience. Today's customers are no longer impressed with pushy sales tactics. People want to engage with brands they feel an emotional connection to. The best way to build that relationship is through transparency and storytelling. Brands who find ways include their fans aren't just marketing to them, they're creating a viable community people are excited to be a part of.
Toyota, for example, boosts ad engagement by 440% with UGC.
Our online experience is becoming ever more content-driven as customers seek brand experiences that align with their personal interests. Marketers who succeed in creating or encouraging UGC will develop a brand people can connect to.
Read more All the best Facebook advertising tricks for small business
_______________________________________________________________________________
Please contact us for seo service packages at TDHSEO.COM.
TDHSEO Team
Email: tdhseo@gmail.com
Skype: tdhseo
https://www.facebook.com/tdhseo
Thank you!