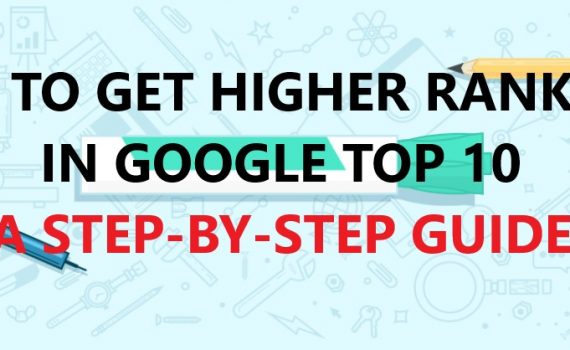 High rankings rarely happen by chance. Even the most skilled and knowledgeable marketers struggle with getting the top-ranking spot. So, how can a regular business owner hope to achieve this feat? While there's no way to absolutely guarantee high rankings, this post will look at some strategies anyone can use to seriously increase their chances of claiming that #1 spot.
Choose the right keywords
The keyword strategy that you use, however, is important. There are a few things to note when choosing the keywords you want to target:
– Choose your keywords based on your domain authority. If you want immediate visibility in the SERPs but you have a domain authority of 16, you're going to want to look for the lowest competition keywords you can. Take your pick out of the low comp keywords and look for those that have the highest search potential out of the lot, and start there. You can still create content and pages for higher competition keywords and it can be shared elsewhere, but remember that you might end up on page 6 of the results.
– Keep search intent in mind. As in the story above, if you want results, your content has to match the search intent behind the keyword. Someone searching for "social media agency" likely isn't going to want "10 tips to decide if starting a social media agency is for you!" They want to find someone to hire. If your content doesn't line up with the estimated search intent, it won't matter how well you rank.
– Use diverse keywords. Shake things up. Go for both long-tail and short-tail keywords. This will help you extend your reach and it will make it easier to target users in all stages of the buying process and funnel, which is important for marketers to accomplish.
As you develop your keyword strategy, you'll want to do a fair amount of research. Tools like Google's Keyword Planner are a great way to identify relevant keywords with good search volume. It can be a complicated puzzle, but it's one you'll need to solve to make the most of your keyword strategy.
Optimize Your Site
If you're looking for a direct way to improve your odds of ranking well on the Google SERP, you may want to look into cleaning up the back end of your website.
The first place to start is your site speed. These days, we all expect instantaneous gratification. We want our food to be ready fast, groceries (and pretty much everything else) delivered to our door, packages to arrive in two days (or less)…and web pages to load in less than a second.
Optimize each piece of content for your keywords.
Once you've "gone niche" and have chosen some easier keywords, it's time to use those keywords in strategic places on your page. While you certainly don't want to overuse your keywords, it is important to use them in a variety of ways within your content. Most importantly, focus on using them in your:
– URL: For instance, instead of www.yoursite.com/sh8xks6.htm, use www.yoursite.com/your-keywords-here.
– Title tag.
– Headings: H1, H2, etc.
– Alt image tag and image captions, where appropriate.
– Throughout your content.
Keep in mind that Google (and your readers) favor comprehensive content that does a great job of covering the topic at hand. So, while it's important to use your keywords somewhere in your content, that's no substitute for writing longer, more in-depth content that really does justice to the topic.
Update Your Content Regularly
You've probably noticed that we feel pretty strongly about content. Search engines do, too. Regularly updated content is viewed as one of the best indicators of a site's relevancy, so be sure to keep it fresh. Audit your content on a set schedule (semesterly for example) and make updates as needed.
If you want to get top rankings in Google, you absolutely must be adding new content to your site regularly. But don't just add content for content's sake; add useful, high-quality content that actually provides value to your customers and prospects.
This content will help you boost your rankings in two primary ways. First, more content means more keywords, and therefore more opportunities for Google to return your site in the search results. Second, the more content you have, the more links you generally accumulate. Plus, having lots of content is great for getting visitors to stay on your site longer. Win-win!
Get More Quality Backlinks
As mentioned above, backlinks are a key part of how Google determines the value of your content. The idea here is very simple: when a website or webpage provides valuable content, other websites will naturally want to link to that content.
The only problem is, most people don't dig very far to find good content. They usually look at the first few search results on a page, identify a good source and link to it.
As a result, content that ranks well tends to get more backlinks. Content that doesn't rank well tends to fall further and further into obscurity.
So how do you get around this problem?
Well, one of the best ways to increase backlinks to your site is through content marketing. The more high-value content you create, the more likely people are to find it and link to it.
This is part of the reason why blogs are so popular for businesses. It gives them a great platform for publishing content and helps them build an audience that loves their business (and hopefully backlinks to their site).
Another way to use content marketing is to create lead magnets. These are usually high-value pieces of content like case studies or white papers that provide unique insight. Since those resources are specific to your business, when people want to use your data in their own content, they'll usually link back to it.
Improve Site Usability
Site usability is another important ranking factor, according to the Backlinko report cited earlier. If you've managed to get to the top three search engine ranking, it's likely that you're already aware of this fact. People visiting your website should be able to have an experience that makes them want to stay.
This means your pages should load quickly and completely. And your visitors should be able to navigate effortlessly across your site. The goal is to make sure they stay for a while instead of just bouncing, because a high bounce rate could pull you down in ranking.
You can always use the Google PageSpeed Insights to keep track of how your site is performing in terms of load speed. In addition to analyzing your page speed, this tool also gives you recommendations on how you can optimize the load speed further.
Related post Top smart ways to improve Google ranking
_______________________________________________________________________________
Please contact us for seo service packages at TDHSEO.COM.
TDHSEO
Email: tdhseo@gmail.com
Skype: tdhseo
Facebook Messenger: tdhseocom
Telegram: + 084  07790 89915
Whatsapp: + 084  07790 89915
Thank you!